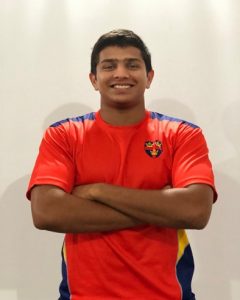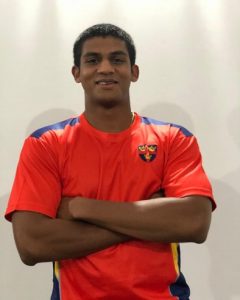 Full Back Reshan Bandaranayake will lead the Trinity Rugby 1st XV team for the year 2019. Reshan made his debut in the year 2017. Reshan will be assisted by Dhirendra Ratwatte who was named Vice-captain during  assembly at the Trinity College main hall this morning.
Reshan who has displayed excellent leadership skills, has represented Trinity College Rugby across all age groups and was named in the 1st XV squad during his last year of Under 18, and started in 4 Bradby Shield Games.
Reshan who was one of the leaders of Trinity Rugby's tour to New Zealand last year was also awarded the Best Development player award by the Wellington Rugby Academy (WRA).   He also led his team to win the Trinity College, Inter-House Rugby Championship in 2018 captaining Lemuel House.
Meanwhile, Dhirendra Ratwatte who has been appointed Vice-captain of the Trinity Rugby team has shown immense work ethic at Trinity. Dhirendra was also in the leadership group during the Tour to New Zealand and was awarded the most Hardworking player by the WRA.
Dhirendra made his debut in the Red, Gold and Blue Jersey in 2017 and has featured in 4 Bradby Shield games in his career. Dhirendra will lead the forwards this year supporting Reshan who will feature in the backs for Trinity Rugby 2019.
The rest of the squad named for 2019 is as follows;
Amith Kulathunga, Chalintha Nanadisena, Chethiya Pananwala, Chirath Senanayake, Demian Tennakoon, Dhanidu Herath, Dulandith Nethwara, Dulara Alawattegama, Geeshapa Kulathunga, Harsha Samarasinghe, Janidu Rathnayake, Jefferey Arungam, Koojana Kulathunga, Lenox Calyanaratne, Lithmal Moragoda, Loshika Wijekoon, Mahdi Abdulla, Mecan Godfrey Yashwanth, Minidu Jayasundara, Miranga Subasighe, Mohemed Shuhaib, Neranjan Vitharana, Nimesh Ekanayake, Pabasara Munasinghe,Prabash Jayasooriya,Prabatha Wimal, Rahul Danaraj, Ruvishan Pananwala, Saliya Damunupola, Sham Robinson, Shehan Sirisoma, Sundul Premaratne, Tehan Karunarathne,Tevin Karunanayake,Thamuditha Dodamthanna, Thidas Thanthirige, Umar Fyzer, Umar Ismail, Uvindu Dassanayake, Yomal Bandara & Zayd Faisal
Trinity Rugby fraternity congratulates and wishes Reshan, Dhirendra and the Squad the best for the Year 2019.
Respice Finem