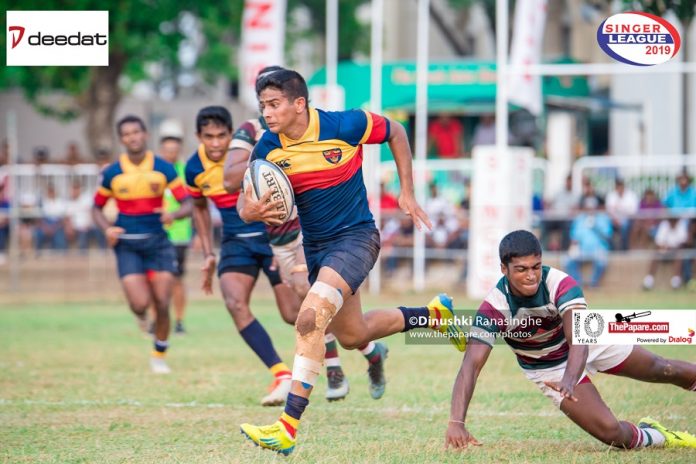 Trinity College travelled down to Maradana for their league opener against a resilient Zahira College outfit. However, after leading 14 points to 6 at half time, the visitors went onto win the game 22 – 11, without securing a bonus point.

Zahira College kick started the game amidst a roaring crowd at Maradana with the hope of reliving their 1932 victory when they first beat the Trinity Lions. Although they looked promising defending in the oppositions half, it was only until the visitors worked their way up, penetrated the defense line and pushed the #8 Rahul Danaraj, over the whitewash to open the scoring, 3 minutes into the game. As Minidu Jayasundara bisected the posts, the Zahirians were immediately under pressure, but managed to bridge the gap 5 minutes later through a three-pointer slotted in by Abdul Salam.
It didn't take long for the visitors to respond and extend their lead – nippy scrum-half Tehan Karunanayake snuck his way over the try line, after showing exemplary footwork to evade the tacklers and touchdown slightly away from the uprights. Jayasundara made no mistake with his boot this time as well, putting his team in a decent position. As the game progressed, both teams were guilty of leaking penalties and dropping balls, as a result, Salam was able to add another 3 points to Zahira's total, narrowing the deficit to just 8 points at half-time.
Half Time: ZC trailed 6 – 14 TCK
The second half got underway with both teams showing signs of urgency. And through Janidu Rathnayake, Trinity were the first to get points on the board. Skipper, Reshan Bandaranayake made the initial break after running a good 40 meters, and the fortunate receiver Rathnayake stepped outside and jotted the ball down in the far corner. Jayasundara wasn't lucky a third time.
As the final quarter of the game approached, the Zahirians were desperately using every ploy in their books, but just couldn't find anything, until the 55th minute when Atheek Alahudeen barged forward from the back of a ruck, to score Zahira's first solitary try. It was all over when the home team conceded a penalty allowing Jayasundara to easily convert to points, and as his kick sailed through, Referee Dinka Peiris blew the final whistle, confirming a Trinity victory.
Player of the Match: Rahul Danaraj (TCK #8)
Score Breakdown ZC
Tries: Atheek Alahudeen
Penalties: Abdul Salam 2

Score Breakdown TCK
Tries: Rahul Danaraj, Janidu Rathnayake, Tehan Karunanayake
Conversions: Minidu Jayasundara 2
Penalties: Minidu jayasundara