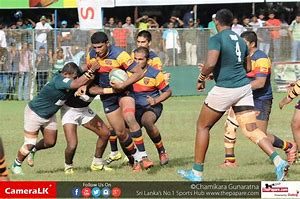 Trinity College will meet the much fancied Isipathana College team this Sunday at the Trinity Rugby Stadium. This will be the first time the young Trinity outfit Captained by Reshan Bandaranayake will be playing in their own den.
Last weeks performance against Zahira College should put the lads from the Hill Capital in good stead, but underestimating an Isipathana side that thrashed St. Anthony's College would be a mistake.
Isipathana boasts a good back line as usual and would surely test Trinity with their attacking flair, any loose balls or mistakes will be pounced on.
With great ground conditions after the upgrading of the Pallakele turf a fast game is expected.
With last years encounter ending in a draw, and Isipathana retaining a majority of their players the odds favor the visitors, but it will be only on Sunday evening that we would see the end result.
We invite all Trinitians to rally around the team and show their numbers at the stadium. The U12s will start of proceedings, with U14, 16 and 2nd XV also having matches
The Trinity team will be.
Nimesh Ekanayake – Prop, Dulara Alawattegama – Hooker, Pabasara Munasighe – Prop, Mecan Yaswanth – 2nd Row, Chethiya Pananwala – 2nd Row, Zayed Faisal – Flanker, Diren Ratwatte- Flanker, Rahul Danaraj – No:08, Tehan Karunanayake – Half Back, Minidu Jayasundara – Fly Half,  Amith Kulathunga – Wing three quarter (No-11), Tevin Karunanayake – Center, Shayam Robinson – Center, Geeshapa Kulathunga – Wing three quarter (No-14),  Reshan Bandaranayake – Full Back (Captain)
Substitutes- Chalintha Nandasena,  Damien Tennakoon, Mahadi Abdulla, Prabath Wimal, Ruvishan Pananwala, Thidas Thanthirige, Danidu Herath, Miranga Subasinghe, Lithmal Moragoda, Harsha Samarasighe