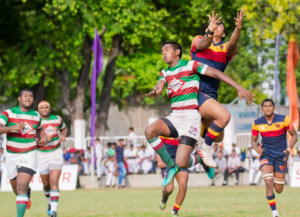 Trinity College 1st XV will be opening their 2019 School's rugby campaign when they take on Zahira College, Colombo on 2nd of March at Maradana commencing at 03.45pm.
Lions will play their opening game away from home at the Zahira College grounds in Maradana famed as a difficult place to travel for away teams. Having had a disappointing 2018, where Trinity finished as the 6th placed team in the league (lowest standing in the past 5 years), Trinity will be looking for a positive start to the first round of the 2019 season which will go on for 05 weeks.
Zahira College is the 4th Sri Lankan school to have taken up rugby in the Island behind Kingswood College, Trinity College and Royal College having first taken to the oval shaped ball game in 1924. They also boast the distinction of handing Trinity College their first ever defeat in the rugby field having won the encounter between the two schools in 1932(6-3) under A.H.A Samad.
Zahira will be led by experienced flanker Zaid Thajudeen. Alongside the skipper Zahira is blessed with strong set of forwards in the likes of Atheeq Alahudeen and Shameem Nasar who will look to put their experience to in the fringes.
Full Back Reshan Banadaranayake, playing for college 1st XV in his third season will lead a young Trinity squad who are without a single coloursmen in their ranks. Hard tackling work horse Dhirendra Ratwatte also playing in his third season for Trinity will deputize Reshan in their attempt to usher the lost glory back to the aisles of Trinity. Much is expected from this young side, and an improvement from 2018 is expected with a New Team handling the side and delivering a top notch performance in the opening game of the season would set the tone for the rest of their campaign.
With Zahirians known to be a very vocal set of spectators who turn up in large numbers for their home games, We urge all the ardent supporters of Trinity Rugby to come to Maradana on 02nd of March and get behind the young lions who will don the Red Gold Blue and represent the Trinity Rugby.
The Team Named for the first match is as follows
Nimesh Ekanayake – Prop, Dulara Alawattegama – Hooker, Pabasara Munasighe – Prop, Mecan Yaswanth – 2nd Row, Chethiya Pananwala – 2nd Row, Dulanjith Nethwara – Flanker, Diren Ratwatte- Flanker , Rahul Danaraj – No:08, Tehan Karunanayake – Half Back, Minidu Jayasundara – Fly Half, Amith Kulathunga – Wing three quarter, Tevin Karunanayake – Center , Shayam Robinson – Center,  Janidu Ratnayake – Wing three quarter (No-14), Reshan Bandaranayake – Full Back (Captain)
Substitutes –Chalintha Nandasena , Damien Tennakoon, Prabash Jayasooriya, Prabath Wimal , Zaid Faysal , Thidas Thanthirige , Harsha Samarasighe , Danidu Herath , Miranga Subasinghe , Lithmal Moragoda